Lori Chacko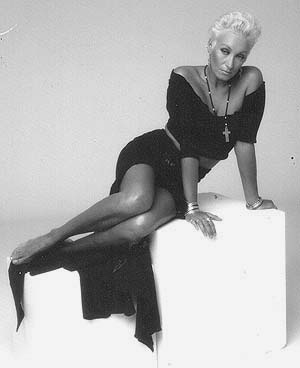 Hers was the voice that belted out the classic title introduction song to 1988's cult phenomenon 'Elvira Mistress of the Dark.' While many Elvira fans over the years have often wondered about the cast or information relating to Elvira's first motion picture the 'who sang that song,' has to be the number one question I have been asked over the years. Since so many people wanted the answer, including myself I decided to play detective and go on a search. Three years later I located Lori and the following question and answer session followed.
Q: Where are you from?
A: London, England of Scottish/Indian descent.
Q: How did you get started in music?
A: At school around 14 I started a 4 girl harmony band called Fever.
Q: When you began in the music industry what was your goal?
A: TO ROCK THE WORLD!!
Q: What was it like seeing your first video on MTV?
A: It was magical.
Q: Did you have an active part in the inclusion of "Once Bitten...Twice Shy" in the 1988 film "Elvira Mistress of the Dark" if so explain? Also what was
your initial feeling about having the title credit music slot?
A: I was honored to have the credit line.
Q: Did you ever happen to meet Elvira/Cassandra Peterson?
A: We did meet and went out socially a few times and had a good time.
Q: Have you seen the movie "Elvira Mistress of the Dark"?
A: Yes and I loved it.
Q: After the 1980's where did you find yourself and your music?
A: I toured as 'Free Spirit' in Germany and London and spent most of my time in LA and opened for Dave Stewart in the China Club amongst many other gigs in New York and LA. After I released the album "Once Bitten Twice Shy" I had a management problem so things were a bit patchy.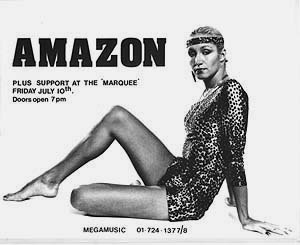 Q: What is your opinion of todays popular music?
A: There are some great acts. Oldies and newbies. I caught Diesel at The Basement last week in Sydney, I had never heard of him and his one man show just blew me away. Jet are also good here and I still love bands like Fleetwood Mac. Their new cd "Say You Will" is fantastic. I choose not to listen to a lot but I'll give anything a go even if it is only once!!
Q: What are you doing now?
A: Im now living in Sydney and working on a new cd, I've hooked up with a great guitarist Dave Scotland and we've so far recorded about a dozen songs. I still occupy all of my time musically and I'm constantly working on new projects. Stay tuned for the new cd!
Q: What is your opinion of todays 'popular' female singers such as Britney Spears and Christina Aguliera?
A: I love Christina Aguilera, Pink, Joss Stone and Alicia Keys!
Q: What do you hope for in rock music in the future?
A: The return of great live shows and visual acts, in the big stadiums and the pub circuits.
Q: Where do you see yourself 10 years from now?
A: I havent been good at planning or thinking ahead I'm a bit of a now girl, spur of the moment person but I'm a devoted songwriter - it gives me the biggest high and I hope that they will become more recognised. I've sung, partied and then some and hope that I'll continue to do the same. Though it's not such in a fast and furious pace as it was!!! I'm still maniac by nature, people have always told me I'm over-active and that presents itself well on stage. When I get off stage I always get comments such as "we've never seen a performer like you, real energy". I have settled though and am in love and live happily by the sea near Bondi even compleate with child - a maltese!
Now click here and view the music video for 'Once Bitten, Twice Shy!'
In Quicktime Format Only

Site Design & Graphics are Copyright ©2005 Patterson Lundquist

E-mail the Webmaster at: webmaster@elviramistressofthedark.com

'Elvira' & 'Mistress of the Dark' are Copyright ©2005 & are registered trademarks of Queen 'B' Productions.

Visit Her Official site at Elvira.com

All photographs of Elvira which are copyrighted to Queen 'B' Productions are used with express permission from Queen 'B' Productions. This includes mass media photos and professional portraits including enhanced and digitally remastered photographs which are seen through out the site. Photographer credit provided when available.