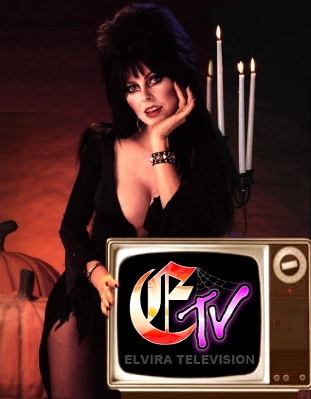 Welcome to Elvira Television, the place in cyber space to watch Elvira hosting the boob tube!
DUE TO THE HANDLING OF QUICKTIME FILES AND THE AUTOMATIC DOWNLOADING WHICH BROWSERS NOW USE TO ACTIVATE QUICKTIME VIDEOS ORIGINALLY HOSTED HERE ON ELVIRA-TV, I HAVE UNFORTUNATELY HAD TO DEACTIVATE THE SERVICE. I AM CURRENTLY IN THE PROCESS OF DETERMINING THE METHOD IN WHICH THESE VIDEOS MAY BE REFORMATTED. HOWEVER, AS THESE VIDEOS WERE ADDED LONG BEFORE ELVIRA'S MOVIE MACABRE RETURNED TO TELEVISION AND LATER WERE DISTRIBUTED THROUGH SHOUT! FACTORY THEY ACTUALLY MIGHT NOT BE ADDED BACK TO THIS SECTION. STAY TUNED.
Manor Macabre presents to you the fans "Elvira Television" featuring Elvira Mistress of the Dark in all her glory doing what she does best. Here and only here will you be able to watch not only episodes of 'Move Macabre' but other rare and vintage clips of Elvira on television or in movies!
For years fans have yearned to watch Elvira as they did ages ago hosting horror movies. Watching Elvira cheese it up on her trademark red velvet couch, surrounded by candles was a guilty pleasure then and now! Elvira and Movie Macabre left an indelible mark on not only the horror hosting industry, but horror and pop culture in general.
Thanks to her writers, her comedy improv skills and loveable portrayal of a timeless character we, now twenty four years later sit here at our computers wishing for that old 'black magic' feeling we got when the opening chords of Movie Macabre started. Now you can feel it all over again! Broadcast in streaming Quicktime (MOV), watch Movie Macabre 'on TV' like you've wanted for years now!
From now until March Manor Macabre will 'air' Elvira hosting "The Mark of the Devil" on Movie Macabre. Fortunately for you, you won't have to sit through this turkey like Elvira did back in the 80's. I've chopped out the movie and prepared for you all the segments featuring her classic wit, charming personality and the best set of.. well the best set you'll see ON a TV SET. Need I say more?
Actually I do. This episode will run as stated above, until March. Available only here in Quicktime format. If you don't have Quicktime, I'd recommend downloading the latest FREE player which will enable you to watch Elvira. Just go to Quicktime.com download the new player follow the installation steps, then come back and enjoy!
After the current episode is aired it will be replaced with 'Beast of the Dead.' Once that happens this episode will be shelved and return at a later date. After that you will have to check back in for future air dates of "The Mark of the Devil." So you literally will need to stay tuned, otherwise you'll miss out!
Before you start, be sure your sound is on and all other applications which may use a large amount of memory are closed. Besides, why multi-task while watching Elvira? She deserves your undivided attention! Also, once you load ElviraTV the ETV Test Pattern will play until the introduction is loaded. Do not click any of the numbered clip buttons until the introduction has played. These clips are of medium to high quality and may take anywhere from fifteen minutes to load, to fifteen seconds, depending on your connection. Viewers with DSL/T1 or Cable modems should receive nearly instant broadcast while dial-up viewers may have to wait a bit.
BROADCAST HAS BEEN DISCONTINUED
Movie Macabré
Hosted By Elvira Mistress of the Dark
Featuring:
The Mark of the Devil
Special Thanks to ChimChim The Video Monkey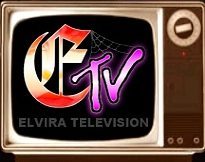 (Opens in a pop-up window)
To keep ETV a permanent feature be sure to comment on it in the new ElviraTV Forums!
If you have a pop-up blocker you should disable it temporarily to launch Elvira TV.
NOTE: ALL CLIPS RUN IN QUICKTIME FORMAT. IT IS ESSENTIAL TO HAVE THE QUICKTIME PLAYER TO EXPERIENCE ELVIRA TELEVISION. FOR VIEWERS WHO DO NOT HAVE QUICKTIME I RECOMMEND DOWNLOADING THE PLAYER AT THE LINK PROVIDED (FREE DOWNLOAD).